Day 5 of Diabetes Blog Week and the topic is More Than Diabetes. The prompt:  Lets wrap up the week by sharing a little more about ourselves, beyond the chronic illness we or our loved ones live with.  Share an interest, hobby, passion, something that is YOU.  If you want to explore how it relates to or helps with diabetes you can.   Or let it be a part of you that is completely separate from diabetes, because there is more to life than just diabetes! 
I'm so excited about this topic as it lets me explain my blog title, "I've Got My Own Type 1 Blog To Do," which is a nod (as good as a wink, if you will ;-p ) to Ronnie Wood's first solo album, "I've Got My Own Album To Do." I'm a HUGE music fan and I often refer to Ronnie Wood as my "gateway drug" for great music. I discovered him as part of the Rolling Stones when rummaging through my aunt's old 45s at my grandparents' house at age 7 or 8 and fell in love with his playing and humor and I gotta confess, he was one of my very first crushes! My love of Ronnie led me to Jeff Beck (only the best guitarist ever!) and Rod Stewart and The Faces and then took off from there to the Yardbirds with Jimmy Page (only the best guitarist ever!) and Eric Clapton (oh yeah, he's no slouch either!) Not a bad start, if I do say so myself. Yes, I know I put two guitarists as the best ever. It's too hard to choose between them! Ironically, I have only seen Ronnie once though – when he played with Rod Stewart at the Hollywood Bowl on Rod's tour in 2004 – Ian MacLagan from their old Faces days joined them too! Now that was worth seeing!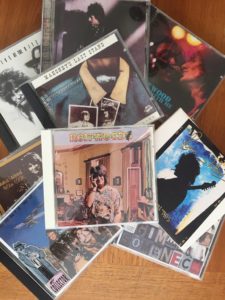 A sample of my Ronnie Wood albums with my blog's namesake on top.
I never take a break from diabetes, but it hasn't stopped me from traveling to see the bands I love. In fact, I've been all over the USA and a couple other countries to see concerts. I even saw my very favorite band, Rush, 18 times on their Clockwork Angels Tour in 2012 and 2013 (and a ton more on previous and subsequent tours.) I've met some great friends along the way too – a couple of them even have type 1!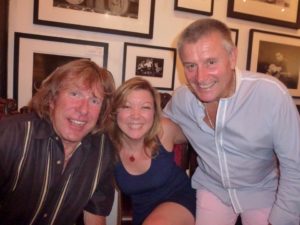 Me with Carl Palmer and the late, great Keith Emerson of ELP, 2013.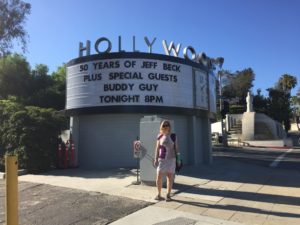 Me seeing 50 Years of Jeff Beck at the Hollywood Bowl, 2016.
My musical taste ranges from very "proggy" like Rush, ELP, Yes, Pink Floyd, and Genesis to blues and rock like the aforementioned Ronnie Wood solo and with the Jeff Beck Group or the Faces, Led Zeppelin, U2, Thin Lizzy, UFO, Queen, Eric Johnson and Steve Vai to name just a few! I've also got a serious metal side with Iron Maiden taking the top spot in that genre – again, I've seen them many times and even had a flight lesson in a 737 flight sim with lead singer Bruce Dickinson himself! Aces High, baby!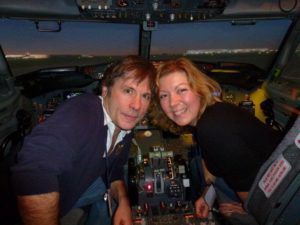 Me getting a flight lesson from Capt. Bruce at Heathrow in London, 2012.
So that 's where my money goes when I'm not spending it on diabetic supplies – a way better take away any day if you ask me!
In addition to starting this blog, I also contribute to an online music magazine, Live Music News and Review. Check out a couple of my reviews at the links below. It's a really wonderful site with great writers. If you're a music lover, you'll enjoy reading all the reviews there!
http://livemusicnewsandreview.com/dirty-deeds-stadium-theatre-april-29th-2017/
http://livemusicnewsandreview.com/?s=THE+MUSICAL+BOX
I also love to run. I've run many 5Ks and 10Ks – my oldest son runs them with me at times, which is such a great treat for me to share with him. I've got one half-marathon under my belt as well and have been trying for the past two years to train for a full, but have been plagued with injuries – broke my wrist last summer, which sucked, let me tell you! This year, I discovered I've got osteoarthritis in my right knee. Oh the joys of nearing age 50! It's not stopping me though. There's nothing that clears my mind better than a scenic run. It's meditation for me as well as great exercise (and I get to listen to all that amazing music while running too!)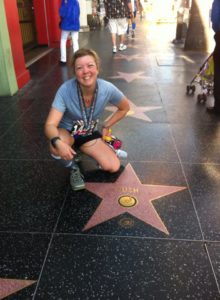 Combining 2 of my loves, running and music – me after I ran the Hollywood Half Marathon in 2014.
I stopped by for a pic with my fave band's star on the Walk of Fame.
So, as you can see, there is way more to life and me than just diabetes!